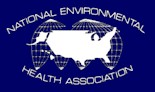 HomeWright Inspections, L.L.C.
is certified by theNational Environmental Health Association (NEHA)


Radon

Radon — The second leading cause of lung cancer in the U.S.
If you're buying or selling a home, radon can be a significant issue. The U.S. Environmental Protection Agency (EPA) recommends every house be tested. If a test was already done, make sure it was recent and that the home has not been renovated since the test. If in doubt, get a new test.
The EPA has designated 4 picocuries per liter of air (pCi/L) as the level at which to take action. About 40% of metro area homes have radon levels above 4 pCi/L.
At HomeWright, we are certified and trained in the proper placement and handling of testing devices. We can perform a radon test as part of a home inspection or as a stand-alone test. Test devices must be in place for a minimum of 48 hours, after which the testing devices will be retrieved and brought to our EPA approved lab for analysis. Test Results will be available the day of retrieval.
If you're a smoker, your lung cancer risk from smoking multiplies with the cancer risk from radon. Smokers should always have a radon test done when purchasing a home.
Radon gas is created when uranium in the soil decays. The gas then seeps into a home throughfoundation cracks, block walls, pipe penetrations, drains, sump baskets, or any other unsealed area. The gas collects in basements and other low-lying, unventilated areas.
Any home may have a radon problem. This means new and old homes, well-sealed and drafty homes, and homes with or without basements. Studies show that a home's tightness, foundation type, and soil type have no predictable effect on radon levels. Homes next door to each other can have different radon levels. The only way to find levels for a specific home is to test.
The following chart shows estimated deaths per year from radon compared to drunk driving, falls in the home, and other causes: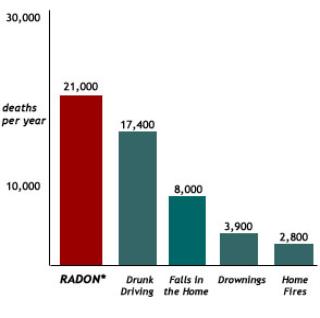 * Radon is estimated to cause about 21,000 lung cancer deaths per year, according to EPA's 2003 Assessment of Risks from Radon in Homes (EPA 402-R-03-003). The numbers of deaths from other causes are taken from the Centers for Disease Control and Prevention's 1999-2001 National Center for Injury Prevention and Control Report and 2002 National Safety Council Reports.
For an EPA map of radon in Maryland, click here.
http://www.epa.gov/iaq/radon/zonemap/maryland.htm
For an EPA map of radon in Virginia, click here.
http://www.epa.gov/iaq/radon/zonemap/virginia.htm
To schedule a Radon test or for more information, please call our office at 301-482-1138 or email us at homewrightinspections@comcast.net
Please visit the Environmental Protection Agency's web site for more information on the dangers of Radon. http://www.epa.gov/radon/